AI@VITALIS 
A brand new feature, AI@vitalis 2018 was a special day devoted to AI and tomorrow's technology; the perfect venue to get up to speed on ways AI can help to improve the quality of care for patients while making for better conditions for staff, and improving the scope of healthcare systems. It was also a valuable opportunity to discuss the challenges of change, purchasing, technical reliability and security, and trust in the new technology.
From traditional healthcare to AI
New technology calls for liaison between disciplines and work operations within a patient-centred philosophy/regime. Clinics, companies, patients, decision-makers, and people involved in technical and clinical research projects discussed how these otherwise independent systems could change the patient's "journey" through, and perception of, the care system.
Target groups
Quite simply, everyone employed by a municipality or county council, who is involved in the development of care in which digital technology plays an important part. This special day highlighted the entire care chain with a cross-border perspective.
People involved care and related sectors
Heads of organisations
Managers, decision-makers
People working in IT fields
Suppliers
Purchasers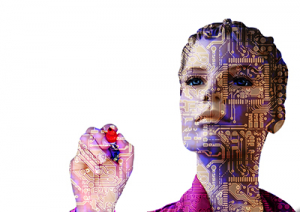 Programme content
What will the patient's "journey" in care look like in an autonomous (self-driving) system?
To find out, join us in an interactive experience of the near future. Examples will include nursing, digital image analysis and decision support for cancer diagnostics.
Introduction:
What requirements and wishes do the patients actually have regarding their care?
What is AI in healthcare?
Descriptions of requirements and definition
How will AI affect diagnosis and treatment?
Companies, universities, clinics
What can be done today?
What is missing?
What must be done to make this happen?
Questions to the patient panel – Do you think you could take part in this development phase? If so, in what way?
Do we need to be afraid of AI?
Enormous data sets will have to be handled and stored. The security of the systems will depend on how they have been programmed. How do we avoid leaks in care systems?
Trust and reliability
Security and integrity
Who is responsible?
The practical work involved
How should these systems be implemented? A purchasing expert provides tips on how the paperwork can be formulated to get innovation, not just short-term price tags, included in tenders for assessment.
Implementation and Availability
Purchasing and Innovation
What can the care sector do instead?
The day will be rounded off with a look into the future, considering what the sector can achieve with the resources that are released.
Will there be scope for staff to engage in research, method development and, most important of all, patient contact?