On the demo@vitalis stage at Vitalis 2017, exhibitors were given 200 seconds each to demonstrate their "connected health" products. The impact of these demos can be massive. Coala Life is a fine example – this Swedish medical technology company, which specialises in cardiac diagnostics, made the most of the opportunity at demo@vitalis 2016. The company showed off its newly developed Coala Heart Monitor, a unique eHealth product that monitors heart activity.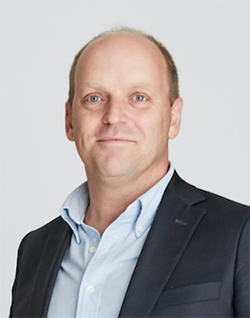 The system includes cloud services that combine advanced screening and analysis technology. Users are able to check their hearts any time and anywhere.
"The system builds on many years of research," says Philip Siberg, CEO of Coala Life, who believes that the demo at demo@vitalis gave the new system a real boost:
"The timing was perfect. We had just produced our first demo device, which enabled us to show off the product and what it can do. The event was a big success. We gained valuable contacts and a great deal of publicity."
In the following months the company had a massive influx of capital from leading entrepreneurs and investors in Life Sciences. And by the end of November we were able to launch the finished Coala Heart Monitor on the Swedish market. Our marketing has been aimed at consumers, and so far the majority of buyers have been private individuals. It's suitable for anyone because it's so easy to use: All you do is hold the little Coala device against your chest for 30 seconds. The recorded EKG and heart sounds are transferred by Bluetooth to your smartphone and uploaded to the cloud for analysis, and the results are then presented on your smartphone. All the results are recorded in the app under "My Journal".
"It's easy to make the check part of your daily routine. For example you can do it in connection with brushing your teeth in the morning or evening," says Philip.
The Coala Heart Monitor is priced at SEK 1,295. But to gain full functionality you also need to subscribe to the cloud services for analysis, data security, etc.
Coala Life has also reached a supply deal with Lloyds Apotek, one of the largest pharmacy chains in Europe, to retail the product. A number of business discussions are also underway in the care sector.
"We will shortly be making a pitch to the management team at Sahlgrenska University Hospital, which is showing a lot of interest in new digital solutions," reports Philip.
So who is the typical Coala customer? Well, they are usually aged 40 or over, and worried about their heart health.
"He or she may have sought medical advice about a heart condition, which is of course the second most common reason for emergency admissions. Another possible reason is that you may have a family history of heart problems, so you want to keep an eye on things," says Philip.
Heart and circulatory problems are the commonest cause of death in Sweden. From a global perspective the potential group of customers is of course enormous. Philip Siberg points out, for example, that hundreds of thousands of people suffer from atrial fibrillations, often without being aware of it.
"Research shows that these people run a five times higher risk of suffering a stroke. One of the big benefits of our product is that it can easily detect atrial fibrillations, so you know if you have this problem."
The Coala system is designed to record deviations and identify problems at an early stage, before anything serious happens.
"If the system identifies anything suspicious the subscriber can immediately contact the Heart Advice Team (Hjärtupplysningen), an external care provider, and talk to experts to get support and guidance," adds Philip. This means that medication can be prescribed in time. Or, in the case of atrial fibrillation, it may require surgery to correct the problem.
Apart from the obvious benefits for the individual, early identification of problems can also have significant benefits for society as a whole. Health statistics show that around 250,000 people visit emergency wards each year due to worries about heart problems. Around 10 per cent of them are diagnosed with serious heart problems. Many are sent home without any specific diagnosis, but still have concerns.
"If the Coala Heart Monitor can help to alleviate those worries and prevent unnecessary emergency visits it can reduce the burden on the healthcare system enormously," explains Philip. The Coala system also provides new opportunities for monitoring patients remotely. A patient who visits the doctor today can already take out his or her smartphone and show relevant heart data.
The system has also been designed to enable hospitals, surgeries, occupational health centres and the like to monitor a patient's development. Philip Siberg sees big development potential:
"This service is not available yet, but we already have the technical ability to provide it. We will shortly be conducting a trial with a leading health provider in Gothenburg."
Win a Coala Heart Monitor!
It could be well worth visiting Vitalis and demo@vitalis on 25-27 April 2017! Coala Life is giving away one Coala Heart Monitor, including one year's subscription (total value SEK 2,500) to a lucky visitor.