Network for the future of health
Vitalis attracts an ever-increasing number of decision-makers from the health and social welfare community: policymakers, hospital administrators, project managers, IT managers, clinical staff, social care managers and procurement officers from municipalities and county councils. Interact with exhibitors and other visitors at the exhibition at Vitalis in May 2024.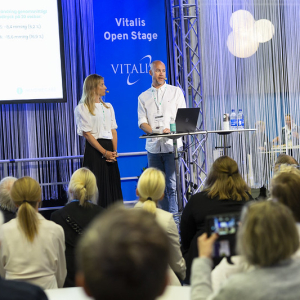 Vitalis Open Stage
Program with focus on Welfare Technology and Self-Monitoring
Welcome to participate in a current program for three days with a focus on welfare technology, accessible living environments, self-monitoring, and healthcare in the home. The stage is located in an exhibition area with many actors showcasing solutions and products within the same field.
The stage program is open to everyone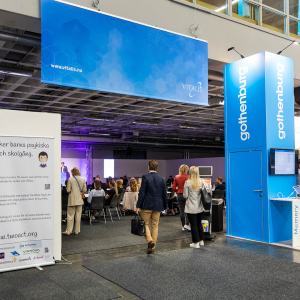 Open Seminar Area
Welcome to take part in the sessions at the Open Seminar Area in Vitalis exhibition. The lectures are available both for visitors to the exhibition and those with conference passes. Many of the lectures relate to the theme of "Caring is Sharing – Exploiting Value in Data for Health and Innovation", the subject of this year's Medical Informatics Europe conference which is being held in parallel with Vitalis this year.
The stage program is open to everyone
A great pitch@vitalis
At A great pitch@vitalis, the most innovative Healthtech companies will showcase new digital solutions in healthcare. Attendees can listen to short pitches where 9 companies present their innovations, followed by questions from a distinguished panel. We welcome you to join us for this engaging event with high energy and excitement!

This activity takes place at Vitalis 2024, time and place will be announced during the spring of 2024.

The activity is open to everyone
eHealth matchmaking
As a free service you are invited to participate in a matchmaking event open to all delegates, presenters and exhibition participants. The aim of the event is to create win-win- situations and perhaps future collaborations between researchers, practitioners, patients and industry.
 
eHealth matchmaking is only available for conference delegates, investors, speakers and exhibitors
Digital courses on OpenEHR
Vitalis conference delegates have the opportunity to enroll in digital courses on openEHR for the second consecutive year.
About the courses