The winner of the HealthTech Award 2023 is Mabel AI – congratulations!
Jury's motivation:
Healthcare is a matter of mastering information and acting on it. Bridging frequent language gaps correctly between the patient and the healthcare professional while safeguarding integrity is key to ensure proper and equal care. The winner offers speech recognition and real-time translation of medical interaction in an AI in-device, minimizing the risk of misinformation and allowing connection to patients' medical records with just one click. Even off-line, during war and catastrophes.
HealthTech Award 2023 goes to an innovation that provides critical language support when every second counts.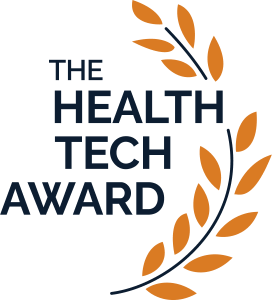 About HealthTech Award
HealthTech Award celebrates healthtech innovations that make a difference for people's lives. The award recognizes innovative companies, based in the Nordics, providing a healthtech solution or product that has a proven positive impact on healthcare, prevention, prediction, health and/or quality of life.
This is the 3rd edition of the award by GREAT, Vitalis and Sahlgrenska Science Park, recognising innovative companies providing a healthtech solution or product that has a proven positive impact on healthcare, prevention, prediction, health and/or quality of life.
The award is open for applications through 14 April and the winner will be announced at the opening of Vitalis on 23 May!
After the ceremony, ten finalists are invited together with the winner to give a 3-minute pitch at A GREAT Pitch @Vitalis.
The prize consists of
In addition to honour and visibility:
Tailored innovation session with CGI, focusing on how to improve speed and value from the innovation process – The session and supporting activities could include, e.g. innovation coaching to build insights into how to get more out of the effort put into innovation. The support will be tailored to the winner's situation to inspire and start a creative dialogue on the innovation. (Four hours) Value 50 000 SEK
A strategy workshop with HiQ, tailored to the winning company's digital needs. This workshop focuses on strategy discussions on digitalisation, business development, best practices from other industries, market opportunities and challenges with sector convergence. (25 hours) Value 50 000 SEK
Legal advice from business law expert MAQS Advokatbyrå, based on the winning company's needs. (Four hours) Value 50 000 SEK
Present at one of GREAT's events during 2023
Jury members
Annica Grimberg Lignell, Head of Business Development, Sahlgrenska Science Park
Frode Langmoen, Ecosystem Development, IBM
Anders Klingström, Director Consulting Services, CGI
Ebba Barret, MD, Innovation & healthtech Programme, Sahlgrenska University Hospital
Maria Sterner, Manager Vitalis
Marianne Larsson, Director, Healthtech Nordic
Markus Lingman, Chief of Strategy, Halland Hospital Group
Criteria for participation
Examples of the assessment criteria the jury is looking for:
Innovation
A product, service or solution with valuable outcomes for the individual, patient, clinician or healthcare organisation.
Involvement of users/patients in development 
Scalability and Market Potential
The pathway to national and international growth, size of market.
Prediction (not mandatory)
Predictions that give the tools and insights for preventive health care
Sustainability
Referring to Agenda 2030
Care outcomes
Social Impact
E.g.  jobs generated, impact on society and improved quality of life.
Entitled businesses may participate with several different products, services or solutions if they meet the criteria.
"The award shines a light on healthtech innovations that can make a real difference in people's lives. It's a way to encourage entrepreneurial spirit and showcase ideas transforming healthcare and social welfare." Maria Sterner, Business Manager Vitalis
"We believe that digitalisation is an enabler for enhanced prediction and treatment of diseases. This award is in line with our ambition to collaborate and bridge the gap between technology solutions and needs within healthcare." Jerker Lindsten, Chairman, GREAT
For more information, please contact:
Maria Sterner, affärsansvarig, Vitalis
maria.sterner@svenskamassan.se
tel +46 31 708 82 35
Lizelotte Edvinsson, Communications Manager, Sahlgrenska Science Park
Lizelotte.edvinsson@sahlgrenskasciencepark.se
Tel +46 705 33 42 43